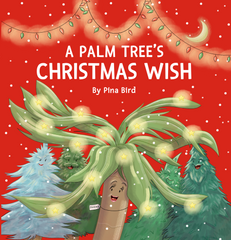 Pre-Order Now!
A Palm Tree's Christmas Wish is an enchanting and heartwarming children's book by Pina Bird. In this delightful tale, readers will follow the story of a Palm tree who dreams of becoming a Christmas tree and bringing joy to families during the holiday season. However, persuading people to take her home proves to be a challenge. The story takes several unexpected twists and turns that will keep readers engaged until the very end. With beautiful illustrations and a message of hope and perseverance, A Palm Tree's Christmas Wish is a perfect addition to any family's holiday collection.
Pre-order A Palm Tree's Christmas Wish and receive a signed copy by the author.
Sign up for our mailing list to be the first to know about this latest release!
Pre-Order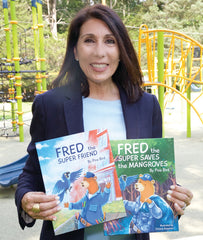 Meet The Author
Pina Basone, also known as Pina Bird, grew up in Connecticut and developed a passion for storytelling at an early age. Throughout her career, Pina has continually reinvented herself while instilling in her children the belief that hard work and self-confidence can make any dream come true. Her stories are inspired by her own experiences and fond memories of childhood. A Palm Tree's Christmas Wish is Pina's fourth children's book and new release following titles like Fred the Super Friend, Fred the Super Saves the Mangroves, and Chicken Livers and Artichokes. 
Schedule a visit to your school or classroom virtually or in person. Hit the link below and leave your message.
Contact Us
⭐⭐⭐⭐⭐

What a lovely story about kindness and friendship. Fred the super helps his neighbors fix leaks and invites them to stay at his place. And they have a lovely time together enjoying each other's company. Lovely illustrations too!

Reens
⭐⭐⭐⭐⭐

Fred the Super Friend is a cute story with wonderful, lively illustrations that young children will enjoy. Children will love the sweet characters, laugh at all the mishaps in the apartment and will be excited to predict what Fred will do to help. As an elementary school teacher I am always looking for stories that will engage children and promote kindness. I look forward to reading this to my students.

Cami Murace
⭐⭐⭐⭐⭐

Fred the Super Friend is a charming story of a helpful friend that when presented with a tough situation, is always willing to help. I love this book and it's outlook of seeing the positive side of things. The illustrations are great and overall, an excellent book for kids. It is definitely one to pull off the shelf for a bedtime story.

James Mase
⭐⭐⭐⭐⭐

Fred the Super was such a wonderful story about a 'super' friend who is kind, and always there when needed! Teaches the value of being helpful! Kids look forward to reading it weekly, and love the illustrations!

ashley
⭐⭐⭐⭐⭐

I loved the sweet message of this story and how the hero is a seemingly ordinary character who has a big heart. The illustrations are great, too!

Ruth Godfrey
⭐⭐⭐⭐⭐

This is a perfect book for little kids two and a half and older. It shows an ordinary evening of a bear supervisor in a big city. The city never sleeps, and the bear doesn't really get a break too. He works hard fixing never ending problems of his building. Water overflowing from the bathtub, water dripping from the ceiling - the super bear has a solution for everything. But he also is a very loving neighbor, who wouldn't let his friends sleep in a cold or danger. He opens his warm and cozy apartment to those in need. This book is so wonderful. The illustrations beautifully add to this story making it a perfect gift to a boy or a girl. It is a perfect book to read at bedtime: perfect length and perfect message for a good night sleep.

Margarita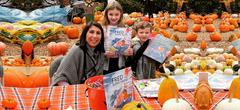 Subscribe For The Latest News
Be the first to receive information on the latest hot off the press books from Pina Bird.
Also, look for promotions, discounts, and pre-order sales.